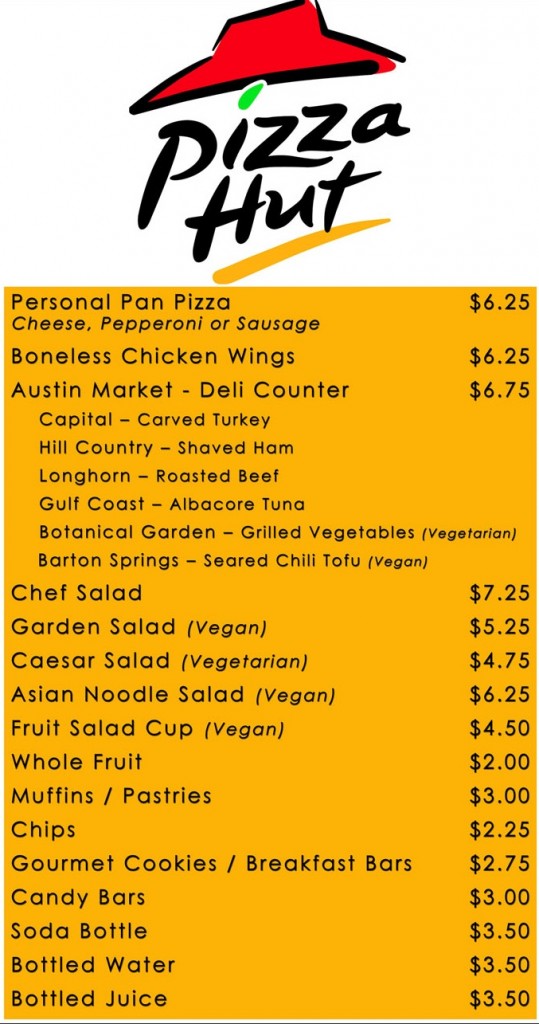 Pizza Hut Menu 2012 and 2013: This Pizza Hut Menu is meant as a guide and example only, and the menu might have changed by the time you read this. To ENLARGE the Menu image, please CLICK on the image.
For more on the Pizza Hut Menu, please visit our page: Pizza Hut Menu.
Below we have added a more recent 2012 Pizza Hut Menu. Remember, that prices change from location to location.
These are indicatory prices only. Please,check with your local Pizza Hut restaurant for current prices.
Specialty Pizzas:
Large -Medium.
Pepperoni Lover's
$16.24 $13.24
Meat Lover's
$16.24 $13.24
Cheese Lover's Plus
$16.24 $13.24
Veggie Lover's
$16.24 $13.24
Supreme And Super Supreme
$16.24 $13.24
Personal Pan Pizza:
up to 3 toppings.
Pick Your Favorite Crust:
Pan Pizza, Hand Tossed, Thin'n Crispy Pizza, Stuffed Crust Pizza, Full House XL Pizza.
Medium 1 Topping -Medium Cheese.
$10.24 $8.99
Extra Topping: $1.25.
Large 1-Topping -Large Cheese
$13.24 $11.74
Extra Topping: $1.50
Toppings to choose from::
veggies: red onions, black olives, tomatoes, mushrooms, green peppers, pineapple, extra cheese, jalapenos, meat: pepperoni, italian sausage, beef topping, ham, chicken, bacon, pork topping
Drinks:
Pepsi, Diet Pepsi, Dew.
Chicken Wings: Bone-Out – Bone-In Or Traditional
10 Wings $6.49 $5.99
20 Wings $11.99 $10.99
40 Wings $20.99 $19.99
Wing Flavors:
Cajun
Spicy Bbq
Honey Bbq
Garlic Parmesan
Buffalo – Choice Of Three Levels Of Heat:
Burnin' Hot, Medium, Mild.
Sides:
WingStreet Taters $2.99
Fried Cheese Sticks $3.39
6 For Apple Pies $3.99
Dips:
Ranch, Blue Cheese, Marinara.
$0.49
-SAVE MONEY Please visit our coupon page here: Pizza Hut Coupons..
TODAY'S TOP PAGE SEARCHES:
harga pizza hut 2012
daftar harga pizza hut
harga pizza hut
daftar harga pizza hut 2012
daftar menu pizza hut
menu pizza hut terbaru